First things first - I am finishing up the Quench video and hope to have that up in the next day or two.
We are working on getting the Pre-Sale orders together. Today will be the last day for pre-sale and the last day for your chance to receive Quench free. I think we have about 10 left to give away. After today whether or not the remaining 10 have been given away - Quench will no longer be available as part of the Buy 3 get 1 free option. It will however be available for sale come Saturday!
We are expecting Living Water and Quench to arrive no later than Friday!!!! WAHOO!!! FINALLY!!! So we are busy printing shipping labels and getting all the supplies ready so that as soon as they arrive, we can have a Friday night packaging party and I can get everyone's packages in the mail first thing Saturday morning before leaving for Universal Studios for the day. Looks like Friday might be a long night! My fingers are crossed that by being proactive and preparing everything now, that it will be smooth sailing come Friday so that they can all go out on Saturday. Send me your helpful wishes on that!
I created a sidebar link for the Cult Nails website and Leslie wanted the code so she could add it to her blog. So I figured I would just post it up here, since this is an easy place for her to get to it.
So Les - this is for you!
Just choose the add a gadget option while you're in the design mode for blogger. Choose the HTML code option. Leave the title blank. Copy & paste the information in the code box below: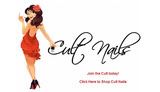 You will end up with the image link that is shown above and when someone clicks on it, they will get directed to the Cult Nails website.
For the rest of you if you are still reading this and want to add this to your blog, of course feel free! Our website statistics allow us to see if anyone is coming over to the Cult Nails website from another website. It also shows us how many unique hits we get from that site. Meaning if it is one person clicking the link 100 times, it tells us that 1 computer clicked the link 100 times. This allows us to determine how many views and sales are coming from particular sites. While sales are nice - well sales are great - since that just means more colors and my being closer to my goal to work for just me in 3 - 4 years. But views helps get us exposure. We are looking at some options like pay per click advertising and things like that - but that unfortunately is not in our budget at the moment. If we did that it would cost us a color or two and we really need to focus on building our color library right now. So if you want to be a part of this grass roots effort and post the link - it would be appreciated. But I am sure many of you are also trying to make some money off your blog and I can totally understand and appreciate if you don't want to as well. Save that room for someone who can pay you! I'm all about that! I figured since I was giving the code for a friends blog, I might as well add you all in anyway. :)