I used to watch Cribs on MTV back in the day, and I always thought it was so cheesy that everyone would say "This is where the magic happens" when they showed their bedroom. But here I go! LOL
You might be thinking: "What you talkin' about Maria?" So let's get to it. For the last 16 years of my marriage, (Read: my entire marriage) we have had a lovely bedroom set. (I'm being kind) Actually truth be told, it wasn't THAT bad. Juan picked it out and he was so proud of himself and so there it was. It was somewhat ornate and very Edgar Allen Poe Old English style
(Edited to add: Juan has corrected me and let me know that EAP was from Baltimore! Um I think you all know what I am talking about though - right?).
It was dark cherry wood and it had so much detailing and it so wasn't my personality at all. Oh how I wanted to get rid of that bedroom for years! Of course with each military move, the movers gauged the dining room table I loved, ripped a couch, broke my daughters brand new dresser, and the figurines Juan and I bought on our honeymoon, but never did they break a piece of our bedroom furniture. I mean honestly, if they had to break something, couldn't they at least do me a favor?
Needless to say when Juan had an assignment where he had to leave us for a year, I saw a window of opportunity. I thought I could get a new bedroom before he returned home! But I wasn't working yet and had time on my hands and those darn shows on HGTV had me convinced I could refinish my own furniture and make it look new. I wish I took some before pictures before getting rid of it! It was BAD! But new furniture costs money and so we lived with it that way for 2 more years!!!
Then early this year, I bought a dresser online on sale. Just a dresser, nothing else. But little by little, pieces started coming together. Well actually what had happened was the bed I wanted from ZGallerie was just way to expensive but I wasn't about to give up on having the bedroom of my dream! 2011 would be the year I redid my bedroom darn it - even if it meant buying one piece at a time!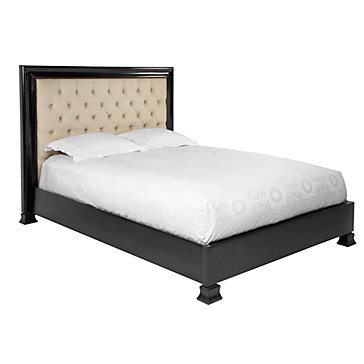 This is the
Z Gallerie
bed that started it all, Gorgeous isn't it? So I made the mistake of going to see the bed in person. Once there, I thought, this bed is too color oriented. Dark brown and tan. I didn't want to be limited when decorating my bed. So I thought maybe I can change the color of the tufting? But then I thought, wait, can I just make this for about $500 instead of spending $1700 on a bed? Hmmmm....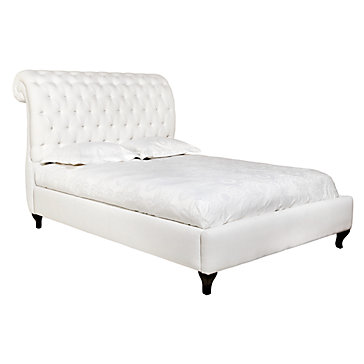 Then while still at ZGallerie, I saw this little piece of heaven. I loved everything except the little curlyque thingy on the back. I love a mix of fancy with not so fancy, and that just took it over the top for me. And well the $1500 price tag did too. But now I knew I wanted a white tufted bed. I HAD to have a white tufted bed! I was SOOO going to make a white tufted bed! LOL!
So I had Juan almost convinced that we could make this the way we (I) wanted. When pinning him down to take me to Lowes to price it, he said "Seriously, can't you just find a cheaper one and buy it! Even if it's $1,000 it's cheaper that the one from ZGallerie and we won't have to worry about screwing it up!) Oh did he just say the magic words - $1,000! Off I went in search for a bed with a tufted headboard! ( I think if I did spend $1,000 on a bed, Juan might have actually disowned me.)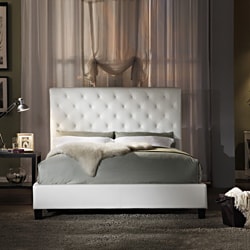 Needless to say I started my search online and eventually I found this bed on
Overstock.com
on sale for $343! (unfortunately it is sold out right now - but they have a Email me when it's back in stock option available for it.) This looked like the perfect compromise and left me with money left over to buy the new sheets to go with it! As soon as I saw this bed I knew I wanted an all white bedroom with just a punch of color. I was a little nervous buying a bed without having seen it in person, but I have to say I love it and it is better than what I expected!
I had some rebate money in my Overstock account and I found the perfect nightstands, and then eventually the perfect chair, so I put away a few dollars everytime I got paid and then the nightstand went on sale and I pounced, then the chair went on sale and I was able to get it at a steal! I had to constantly look at the site for updates, but I put the items I liked in my wishlist and piece by piece the bedroom started coming together.
Wow I got these on sale - just looked at them now and one is the price I paid for two! YIKES!
I also got this chair on sale. I kept waiting for a sale and for an offer and I hit for a steal compared to what they have it for now!
Then came the table this month to go with the chair and I found the perfect lamp at TJ Maxx and well, you know how it is! I now need to find the accessories for the dresser and the walls. But that will happen over time. I figure at this rate of piecing it together, I will have it done by the summer. I want to put a temp wallpaper over the wall behind the bed and some other ideas, but time will tell.
I'm just so excited to finally have a bedroom I love - I just had to share it with you guys! So here is where I am at so far.
The bed. It looks so comfy, I just want to climb in right now! LOL! See the cabinet on the right? All nail polish in there!
The table and chair. Can you see the wall? That is a huge world map with stars on every place Cult Nails has been! I need to put it in a nice frame or something if it's going to stay in my bedroom!
Bed close up. Juan made fun of me for the monogramed pillows. I wanted something a bit rustic looking so I ironed them on but didn't let the iron get too hot so it would leave gaps. It came out pretty nice.
Ah the dresser, this looks pretty sad. One day I will decorate it. Any ideas?
Another shot of the bedroom
So what do you guys think so far? Any suggestions? Have you undergone a major room redo? Did you do it all at once or in bits and pieces like me? I would love to hear how you do it!